I was going to move on today but I had reports from my friend Rhonda, and a couple that I had sought directions to the silos from, that the current exhibition at the Geelong Gallery was excellent and well worth a visit. What convinced me was a discussion with Deen last night, I was explaining that I don't go back or do U turns and she said "just consider it a day trip"! So I did and it was certainly worth the 200 Km return trip.
The artist is Rone and it was he that painted the silos at Fyansford that have since been demolished that I was going to visit yesterday.
Apparently the artist has a passion for painting in deserted buildings or structures that are partly demolished, in the silos photo you can see the rough edge of the partly demolished supporting building under the silos. He did the same thing at the APM Paper Mill at Abbotsford in 2017 and photos of that artwork and other work at the mill are featured in this exhibition at Geelong. The quote below summarises Rone's philosophy of painting in abandoned and partly demolished buildings
The two photos below are of artwork at the Abbotsford papermill that Rone painted in partly demolished buildings. Unfortunately the photos were framed in glass and there are reflections of people looking at other paintings in the Gallery in my photo.
Rone had painted artwork in all seven rooms of a deserted Federation weatherboard cottage at the papermill. Rone said of that work: "Now on its last legs, marooned in a sea of progress awaiting its final end, [it] serves as a potent symbol of defiance in the face of relentless change".
The Gallery and Rone have recreated two of those rooms in a massive hall in the gallery. It was fantastic, wonderful detail even down to spiders webs. The hall in which they created this display was at least 15 metres wide and about 45 metres long with one room at each end.
The recreated music room was set in very low light to give it a dark moody feel.
The framed paintings hanging in the recreated rooms were painted by Rone and a number of them were of paintings Rone had liked when he visited the Gallery as a child. He had dappled them with light brown spots that sometimes develop on old paintings, that aside, they were hard to distinguish from the originals.
The paining in the middle is of a Hans Heysen painting of the Flinders ranges and you do feel like walking over and straightening it up, just adds to the feeling of abandonment.
Rone had also recreated a family room that he had painted at the Abbotsford papermill.
It is interesting that McCubbins renowned painting "Burial in the bush" was an inspiration to Rone as a child and it is owned by the Geelong Gallery, sadly it was on loan to another gallery at the time of my visit. It is a wonderful painting that most of us have marvelled at, you can understand why it inspired Rone.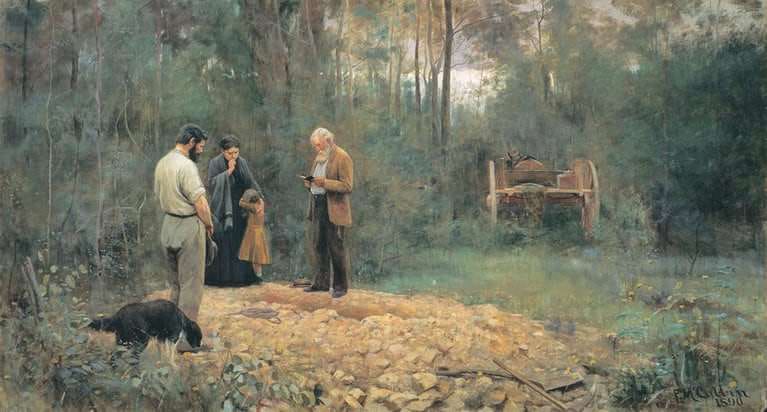 I am so glad that I made the "day trip" to the gallery, it was a heart-lifting experience, well worth the effort.